Key Stage 3:  Religious Studies
Curriculum Intent
In Religious Studies lessons we enable students to engage with and explore religion, including the six main world religions and humanism so that they may develop and deepen their own sense of spirituality, appreciate and understand other beliefs and viewpoints and work towards academic excellence at Key Stage 3.
Religious Studies is an important subject at Murray Park and the Religious Studies curriculum reflects the fact that issues of religion and belief frequently top the news agenda. The Religious Studies curriculum allows young people growing up in a diverse society to understand the views and opinions of people whose beliefs and values differ from their own. It provides space for young people to reflect on their own ideas and develop their thoughts about questions of meaning and ethics. Religious Studies develops the students' abilities to express themselves, ready for the world of work and higher education. Aspirational career pathways that link well with this subject are lawyers, paramedics, nurses, teachers and social workers.
The main objective of the department is to provide varied and enriching lessons which effectively prepare our pupils for life in a culturally diverse modern world. Our department aims to promote an awareness of Religious Studies in everyday living, to encourage enthusiasm for interest in the study of other people's beliefs and to promote mutual respect, tolerance and understanding across different cultures and communities.
The Religious Studies curriculum at Murray Park endeavours to reflect the world around us. We ensure that students are able to consider other people's views and respect that others may have different viewpoints to themselves. The main objective of Religious Studies at school is to provide varied and enriching lessons that effectively prepare our students for life in a culturally diverse modern world.
We begin by considering what belief is and how it affects religious believers, before studying the six main world religions by the end of Year 8. They also consider the non-religious worldview of Humanism. In Year 9 Religious Studies students are challenged to reflect and consider ethical and moral issues.  Some of the issues they will explore in year 9 are good and evil, religion and medical ethics and religion peace and justice.
Our aims are:
to help students to appreciate and to understand other people's beliefs and viewpoints;
to enable students to respect someone else's viewpoint, even though it may differ greatly from their own;
to equip students with the skills needed for dealing with situations where they encounter differing viewpoints and challenges to their own thinking; and,
to help students understand that everyone's opinion matters.
Curriculum Overview
Pupils are encouraged to take part in a wide range of activities and experiences across and beyond the curriculum, contributing fully to the life of the school and the community. In doing so, pupils learn to recognise their own worth, work well with others and become increasingly responsible for their own learning. They reflect on their experiences and understand how they are developing personally and socially, by understanding the spiritual, moral, social and cultural issues that are part of growing up.
The pupils study a range of topics including: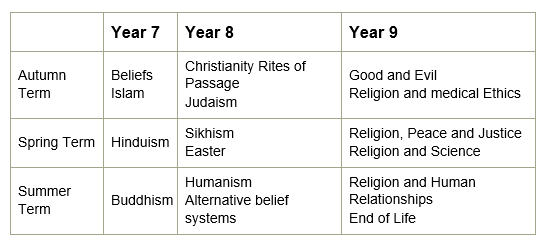 Extra-curricular activities
Drop down days and outside speakers are used to support the delivery of this subject.