Attendance at Murray Park School
This is a message about school attendance from September 2020.
Derby City Council are working in partnership with all schools across the City to welcome all children back to school in September following several very difficult months for parents, children and schools. We would like to say a heartfelt thank you to parents for the work you have done in ensuring your child/ren have received education during this period.  We have heard of many cases of parents often in very difficult circumstances who have done their very best to support their child's learning whilst schools have been closed to all but specific groups of pupils.
We are sure parents are delighted that schools are re-opening to all pupils in September 2020 and children can return to their usual routines and benefit from and enjoy all that is on offer to them at school.
In March when the coronavirus (COVID-19) outbreak was increasing, the government made it clear that no parent would be penalised or sanctioned for their child's non-attendance at school as schools were then closed to all but those specific groups of pupils.
Now the circumstances have changed, and the measures taken by the government have meant that children can safely return to school. It is vital for all children to return to school to minimise as far as possible the longer-term impact of the pandemic on their education, wellbeing and wider development.  We know that children have not only missed out on learning but also missed being with their friends and the wider social aspects of school.
Missing out on more time in the classroom risks pupils falling further behind. Those with higher levels of absence tend to achieve less well in both primary and secondary school.
Therefore, the Department for Education have confirmed that school attendance compulsory again from the beginning of September 2020 when schools re-open after the summer break.
This means from 1st September 2020, the usual rules on school attendance apply, including:
It is a parents' duty to send their child to school regularly if they are of compulsory school age;
It is schools' responsibility to record attendance and follow up absence
the local authority is able to resume the use of legal sanctions, including penalty notices and processes that may lead to prosecution in court for persistent absence
If you are worried about your child returning to school, you should discuss your concerns with the school directly.  The school will be able to offer reassurance about the protective measures they have in place, and all schools work closely with health and other agencies who may also be able to help if needed.
In addition, this is not the time to take your child out of school for a family holiday or other term time leave. It is unlikely that any leave will be authorised by the Head Teacher after so much enforced absence from school.  The more your child is in school, the more they will catch up. 
No school or local authority wants to take legal action, and every attempt to resolve parents' concerns and improve a child's attendance will be made before any formal action is considered.
After so much disruption to your child/ren's education over recent months, the most important thing is that the school and parents work together to get children back into school. The school is ready to listen so please contact them if you have any worries and they will try to help you.
Schools and colleges fully appreciate that some children and young people may be experiencing feelings such as anxiety, stress or low mood as a result of the coronavirus (COVID-19) outbreak.
There are online resources available to help you and your child with mental health, including:
It is also vital to report any safeguarding concerns you have about any child. Contact the NSPCC helpline on 0808 800 5000 or Barnardo's support service (https://www.barnardos.org.uk/see-hear-respond)
The most recent Department for Education guidance is also available here:
https://www.gov.uk/government/publications/what-parents-and-carers-need-to-know-about-early-years-providers-schools-and-colleges-during-the-coronavirus-covid-19-outbreak/what-parents-and-carers-need-to-know-about-early-years-providers-schools-and-colleges-in-the-autumn-term
At Murray Park, we carefully monitor attendance and punctuality. You may be aware that students whose attendance falls below 95% suffer a major impact to their learning and those with poor attendance are far less likely to achieve their expected levels of attainment. In light of this, you are asked to take steps to ensure your child attends school every day. Absences soon mount up – see the impact of time off over one year: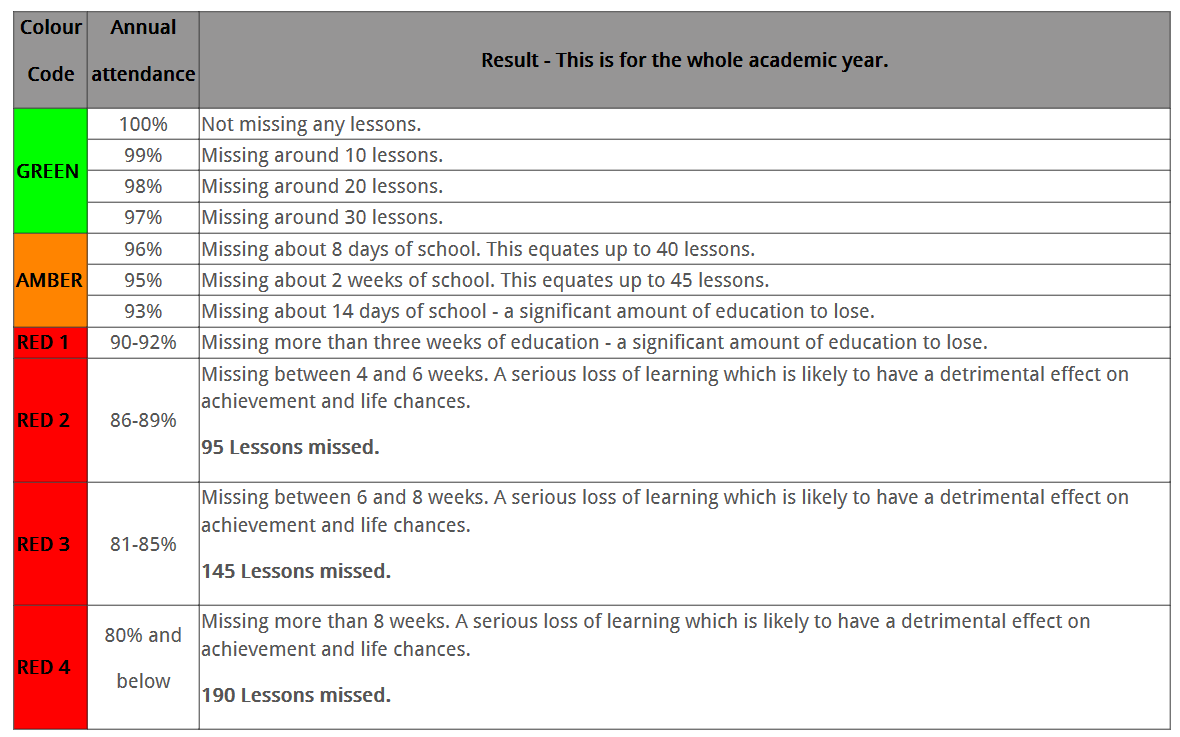 Students with below 90% absence will be referred to the Education Welfare Service and they may wish to contact you to discuss issues and ways to improve attendance. 
Absences matter and you can help
We will write to all parents if their child has been off more than the average amount of absence time for the school cohort. The letter will inform them of the number of days their son/daughter has not attended. Whilst the absences may have been authorised, we know that parents want to support their child in their education and the School in encouraging their son/daughter to good attendance. If you receive a letter please speak to your child about their attendance and if there are issues we can help you with please talk to your child's form tutor or Head of Year. We do not want any student to feel they are falling behind due to absence.
Important – Reporting Absences
If your child is too ill to attend school please contact the School absence line on (01332) 515921 option 1 before 9.30am or alternatively email us at student.services@murraypark.derby.sch.uk Please state:
Child's full name & form.
The reason for absence.
The date(s) your child(ren) will be absent
When you expect they will return to the School
This should be repeated for every day of illness, then a note from parent/carer explaining the period of absence should be handed to the Form Tutor on the day of return to school.
Time Off During Term
Medical and Dental Appointments
We ask that, wherever possible, medical/dental appointments be made outside of the normal school day. Where this is unavoidable the appointment card (or letter from parent/carer) should be shown to the Form Tutor or shown to Student Services staff no later than the previous school day, wherever possible. Alternatively, you can leave a message on the absence line for the Attendance Administrator. We ask that you return your child to school immediately after the appointment, unless lessons are finished for the day.
Holidays
There is no automatic right of absence for a family holiday: this is in accordance with Government Policy. If you wish to take your child out of school for a day of religious observance, you will also need to complete a leave of absence form.
Your Support.
We appreciate your support in keeping us informed promptly of any absences from school. If there are any issues regarding attendance that you would like to discuss with the school, please either contact your child's Head of Year or the Attendance Administrator.