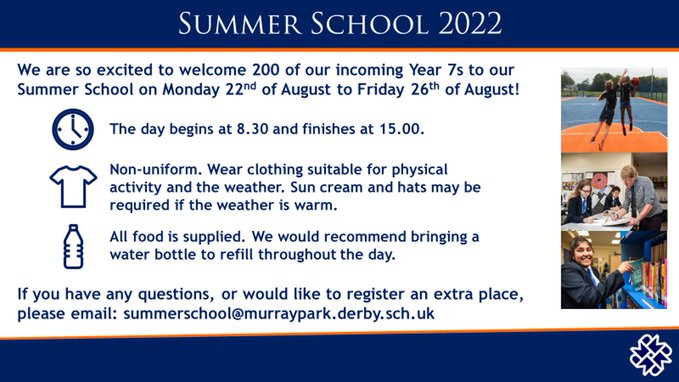 Our Year 6 summer school programme here at Murray Park will commence after this weekend and we hope students are looking forward to an action-packed week. Below is a reminder of the important details.
Dates: The programme will run from Monday 22nd to Friday 26th of August (next week). Please notify us of any absences via email or telephone.
Times: The day will begin at 8:30am and run until 3:00pm each day. Early drop off at 8:00am is available for those students who stated a requirement of this service on the registration form.
Clothing/Equipment: Suitable non-uniform clothing for various activities, which include sports. Please ensure to pack sunscreen and a sunhat. A raincoat is also advised should we be unfortunate enough to encounter a downpour. Students should bring basic writing equipment, including a pen, pencil, and ruler.
Food: All students will receive a free breakfast and lunch each day as well as snacks and refreshments during the day. Please can we ask that any food products containing nuts are not brought to the summer school programme due to an allergy onsite.  
In a case of any emergency during the Year 6 summer school programme, please contact the school phone number: 01332 515921.
If you have any further questions or queries, please do not hesitate to get in touch with us over the coming days using the following email address: summerschool@murraypark.derby.sch.uk