Year 9 Options
Please note, the options process for 2023 has now closed. The information remains on this page for any new students.
On this page you will find:
An introduction talk to explain each stage of the options process at Murray Park School.
Information videos for all the subjects we offer.
A copy of the Options Booklet for 2023.
Information on how to contact subject teachers if you wish to find more information about the courses on offer.
Introduction Talk
Options Booklet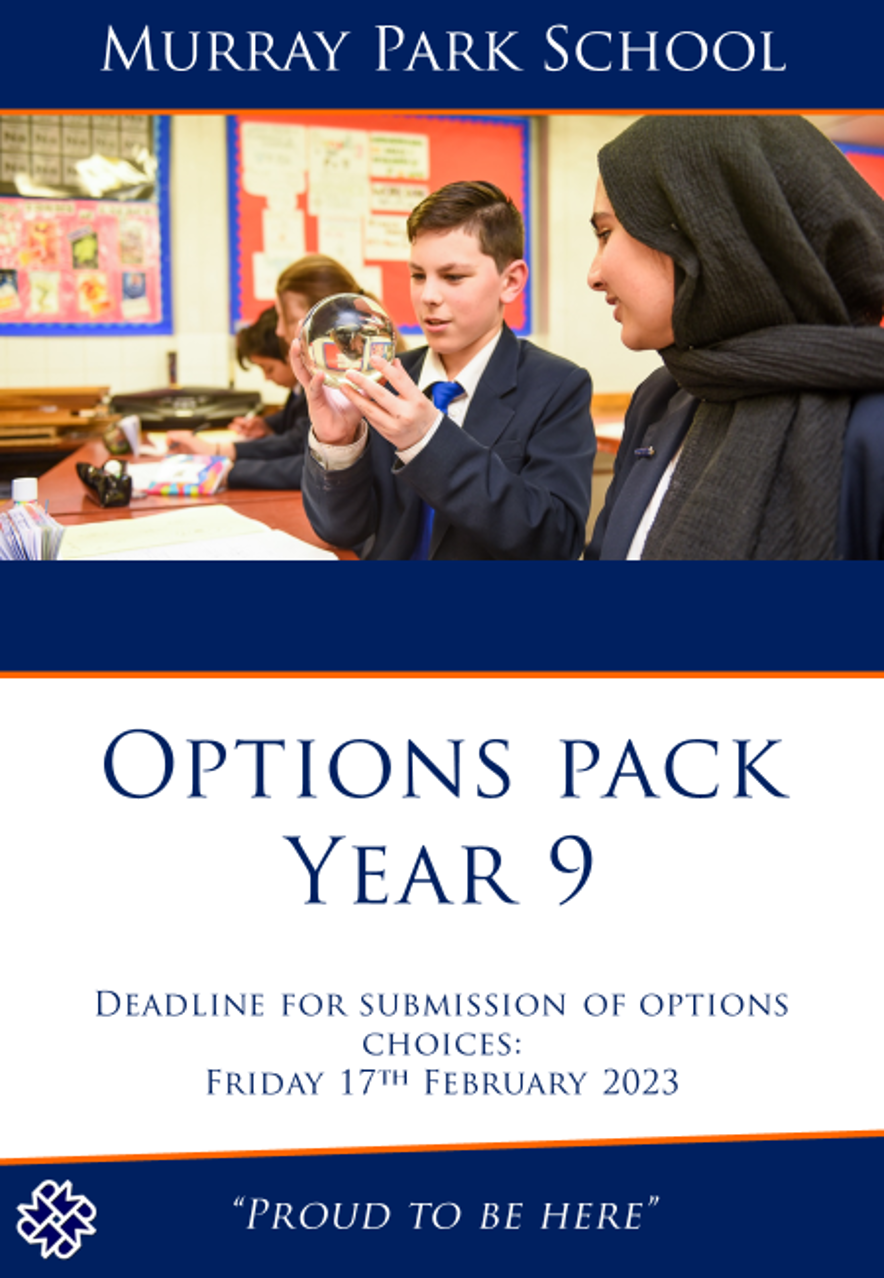 Year 9 Parents' Evening and Options Information
On Tuesday 24th January 2023 we hosted an on-site Parents' Evening for English, Maths and Science teachers. There will also be the facility to book an appointment with the SEND team if your child is on the SEND register. You will be required to book appointments for Maths, English, Science and SEND (if applicable) using our Parents Evening System.  At the same time as the Parents' Evening, we are hosting an Options Event where students and parents/carers will be able to discuss the courses with Teachers – there will also be a talk from Mr Hagen on the Options Process and the opportunity to ask any questions.
Please click here to access instructions for booking Parents' Evening appointments.
To book appointments please click here to access our Parents' Evening booking system. 
If you cannot participate in this evening, or would like further information from a subject teacher you spoke with, please email options@murrypark.derby.sch.uk and your message will be forwarded to the relevant department or member of staff.
Subject Presentation Videos
Submitting Options
Option choices should be submitted using one of the forms below. These forms are available from form tutors and are enclosed in the packs sent home. Completed forms should have been submitted to the Student Services Desk in school no later than Friday 17th February 2023
Help and Support
If you require any additional information, or support in the Options Process, the following staff are here to help:
Mr George Hagen – Deputy Headteacher
Ms Gill Morley  – Head of Year 9
Miss Kim Young – Raising Achievement Leader Year 9
Mr Tim Taylor – Careers Advisor
These staff can be contacted via our dedicated Options email address: options@murraypark.derby.sch.uk