Key Stage 4:  Construction
Curriculum Intent
The construction curriculum provides a comprehensive skills base and a sound understanding of key industrial practices for students with a keen interest in practical work in order to prepare them for a potential career in the diverse construction industry. We partner with Derby College to ensure that students have access to specialist facilities and high quality technical expertise from experienced and skilled staff.
Students complete units of study across a range of construction trade specialisms to give them a broad repertoire of skills to emerge as capable craftspeople, and alongside this develop their knowledge of key topics such as health and safety and the planning and management of construction work, leaving them able to make immediate progress into the industry should they wish to upon leaving Murray Park.
Curriculum overview
WJEC Level 1 and 2 Award in Constructing the Built Environment
Unit 1- Safety and Security in Construction- 25%
Unit 2- Practical Construction Skills- 50%
Unit 3- Planning Construction Projects- 25%
In Year 10 spend one hour per week studying the examined aspect of the course, focussed upon health and safety practices in the construction industry, as well as spending one afternoon at Derby College, completing the initial practical units of the course. At the end of Year 10, students sit the Unit 1 exam.
Throughout Year 11 students continue practical elements to complete Unit 2, which is followed by the project based assessment for Unit 3 which requires them to demonstrate their construction planning skills, working within a given context.
https://www.goconstruct.org/construction-careers/browse-all-job-roles/
https://www.wjec.co.uk/qualifications/constructing-the-built-environment-level-1-2/#tab_overview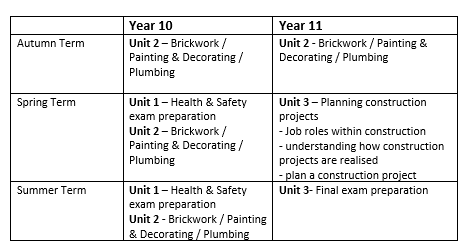 *NB- College groups work on a rotation so exact sequence of Unit 2 specialisms depends on groupings.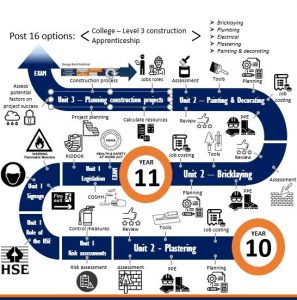 Extra-curricular activities
Practical sessions are run at Derby College- classes finish at 4pm.