Key Stage 4:  Food Preparation and Nutrition
Curriculum Intent
The food technology department offer learners the opportunity to develop their knowledge and understanding of food preparation and nutrition. The practical and theoretical skills learners will acquire throughout the curriculum will empower them to work confidently, independently and develop valuable life skills. Learners will become self-sufficient young adults with a contextual understanding of current diet related health issues within society. The subject also provides therapeutic benefits to the learners as the opportunity to design and create their own dishes can nurture their creativity and give them a sense of accomplishment.
Curriculum overview
AQA GCSE Food Preparation and Nutrition
NEA 1- Food Investigation- 15%
NEA 2- Food Preparation- 35%
Exam- 50%
Throughout Year 10 students complete a range of practical assignments and menu planning projects focussed on the key skills of research and analysis in order to meet the needs of specific consumers. This is followed with a unit covering the scientific aspect of food preparation and the effects of different combinations of ingredients and cooking techniques upon the composition of prepared foods. Year 10 concludes with a mock exam to develop the students' exam technique.
In Year 11 students are largely focussed upon completing the non-examined assessment tasks that form part of the final grade they are awarded. In addition to this students complete a comprehensive programme of revision in order to prepare for the final exam.
https://www.foodafactoflife.org.uk/
https://www.ifst.org/lovefoodlovescience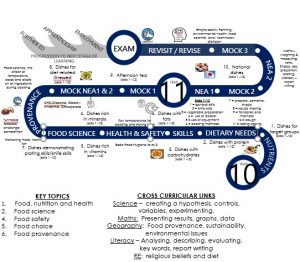 Extra-curricular activities
Year 10 GCSE Food Masterclass – every Monday evening from 3:15 to 4:15 in ED5.
The Department provides one hour a week, Commit to Six support sessions in the summer term of Year 10 and throughout Year 11.