Key Stage 3:  Design and Technology
Curriculum Intent
The Engineering and Design Team at Murray Park are committed and enthused experts in their respective fields, bringing a wealth of knowledge and experience from industry into the classroom. We strive to equip pupils with the skills and qualifications to go on and become the next generation of creative and skilled practitioners in their chosen field. Our mission is to build confidence and encourage pupils to become independent and resilient learners.
Our curriculum is designed to install a love of learning, making links to industry and developing major cross-curricular skills which are important in other subject areas beyond our own. Learning is well balanced between the development of practical and academic skills providing a rich and informative mix of engaging and purposeful lessons.
Curriculum overview
Pupils in Years 7-9 will study a range of Design & Technology subjects on a 7/8 week rotation so that they develop a wide foundation of knowledge and skills from specialist teachers. The Design and Technology programme of study gives pupils the capability to apply creativity and innovation along with an appreciation of the impact that changing technology has upon society, leaving them able to take a confident, informed approach to design challenges in both local and industrial contexts.
In Food Technology students learn a wide range of challenging food preparation skills to make high quality dishes, underpinned by a knowledge of nutrition and ingredients required to lead a healthy lifestyle, or progress in the food industry.
https://www.foodafactoflife.org.uk/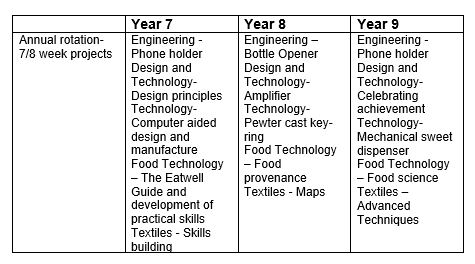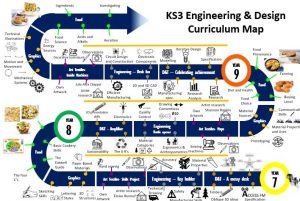 Extra-curricular activities
The Design and Technology Department runs the Formula 1 in Schools programme for Year 8 students.