Key Stage 4:  Engineering (Year 11)
Curriculum Intent
The engineering curriculum has been designed to prepare students to participate in tomorrow's rapidly changing industrial world. We aim to link learning with our local engineering businesses bringing a real life view to their work. Students will gain the opportunity to visit industrial factories and engage in presentations/in-school activities ran by leading local professionals in the field of Engineering. Therefore, this curriculum provides that firm grounding for students to be able to pursue a career Engineering.
Students develop their understanding of the process of realising functional products from interpreting engineering drawings, planning for its production and reviewing its quality and sustainability. Students will learn, and have the opportunity apply fundamental engineering principles so that they can work independently through a manufacturing process. It is our aim to develop and build on this knowledge and these skills throughout KS3 so that students are ready to demonstrate successfully their learning during GCSE controlled assessments. They will gain experiences of using a wide range of manual and CNC equipment giving them a solid foundation of knowledge for life after Murray Park.
Curriculum Overview
OCR Cambridge National- Engineering Manufacture
R109- Engineering Materials, Processes and Production- 25%
R110- Preparing and Planning for Manufacture- 25%
R111- Computer Aided Manufacturing- 25%
R112- Quality Control of Engineered Products- 25%
In Year 10 students are taught the key principles of engineering manufacture, such as reading technical drawings, the use of quality control measures such as tolerances and planning tasks in detail prior to developing practical skills using standard hand and machine tools. Following this students complete R110, for which they will plan and manufacture and given product before moving on to Unit R111, which gives them the opportunity to learn how to set up and operate computer controlled production machinery in detail. Throughout both of these units, students gain key knowledge required for Unit R109, the examined aspect of the course, which develops a comprehensive understanding of engineering materials, manufacturing techniques and industrial processes.
In Year 11 students continue to learn key technical information in preparation for The Unit R109 exam, which is taken in the January of Year 11. Finally students complete Unit R112 in which they learn how quality is controlled and ensured in industrial settings.
https://www.ocr.org.uk/qualifications/cambridge-nationals/engineering-manufacture-level-1-2-award-certificate-j832-j842/
https://www.tomorrowsengineers.org.uk/
https://www.technologystudent.com/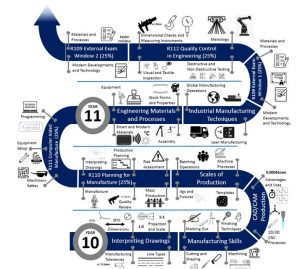 Extra-curricular activities
The Department provides one hour a week, Commit to Six support sessions in the summer term of Year 10 and throughout Year 11.
Key Stage 4: Engineering (Year 10)
Students moving into Year 10 for 2022-23 will study the new specification for OCR Cambridge National Engineering Manufacture. Whilst the content of the course remains broadly in line with the previous specification, the quality control aspects formerly covered within Unit R112 will now be absorbed into Units R015 and R016. The structure of the course over Years 10 and 11 can be seen below.
OCR Cambridge National- Engineering Manufacture
R014- Principles of Engineering Manufacture- 40%
R015- Manufacturing a One-Off Product- 30%
R016- Manufacturing in Quantity- 30%