Key Stage 3: Textiles
Curriculum Intent
The teaching of Textiles at Murray Park aims to enable each student to confidently use hand and machine techniques to competently manipulate materials for a variety of uses throughout their lives. Textiles is taught as an Art discipline, but also prepares students to follow a Design Technology pathway and to use sewing skills in their everyday lives. Students will be given the opportunity to experience and work with a wide variety of materials and processes. As with their Art studies, students begin projects with observational drawing to study and examine patterns, shapes and textures related to a theme, inspiring their ideas later on. As well as formal observational drawings, students use a variety of expressive drawing techniques to generate patterns and imagery. We use local and national artists as inspiration for further development of student project work. As well as Textile artists we also research artists who work in other disciples such as ceramics and sculpture. Later, the students learn how to experiment with different textiles techniques in order to produce a personal response to a given starting point. This process is followed throughout Key Stage 3 in order to best prepare students for subsequent GCSE courses they may choose to follow. The students also study a theory unit, providing the core theoretical Textiles knowledge to understand how Textile fibres and fabrics impact their lives and their planet. This also provides knowledge for a GCSE Design and Technology course. In order to prepare students for Textiles at Key Stage 4, lessons are sequenced in order to build and improve their artistic skills. Students' work is assessed using four assessment objectives Research (AO1), Development (AO2), Recording/drawing (AO3) and personal response (AO4); these four areas reflect the main assessment criteria faced by GCSE students in Year 10 and 11. We aim to introduce students to the work of other artists, different styles and genres through research and taught input.
Reflecting the Murray Park PRIDE values we want students to grapple and experiment with materials and processes to foster perseverance. We want independent learners, who interpret a brief using their own ideas and who follow their 'Dreams' and ideas to produce 'Excellent' outcomes. We introduce students to new art forms, artists and run trips (domestic and international) to broaden their horizons and experiences.
We aim to prepare students for the world of work and Post 16 opportunities by studying professional artists working in a range of sectors of the Arts industry, locally, nationally and internationally. We also promote creative Post-16 courses including 'A' Level and Level 3 BTEC and Foundation degrees.
Curriculum Overview
In KS3 Art pupils are taught to:
Develop their ideas through research and investigations
Study the work of existing artists and designers
Understand the techniques the artists employ
Be creative in the way they present their research
Develop a critical understanding of sources used
Analyse and evaluate their own work, and that of others, in order to strengthen the visual impact or applications of their work
Refine their work experimentation
Explore new materials, techniques and processes
Understand when it is best to employ a certain process
Experiment with materials to further develop their ideas and techniques
Increase their proficiency in media and techniques
Record their ideas
Record ideas through drawing
Use a sketchbook creatively
Draw to generate ideas
Understand the Formal Elements of art in a Textiles frame
Utilise mark making
Employ photography for recording
Annotate and analyse to further explain their thinking and intentions
Present a personal response
Competently present a personal response to a given starting point
Develop an understanding of the visual language
Art Textiles is taught as part of a rotation carousel along with Design and Technology and Food and Nutrition at Key Stage 3.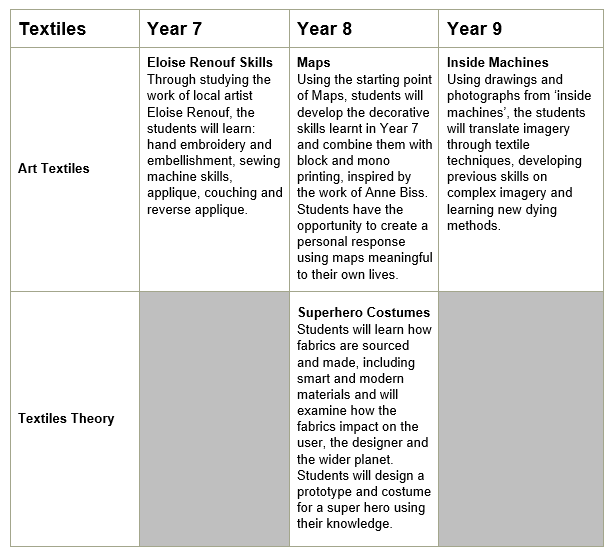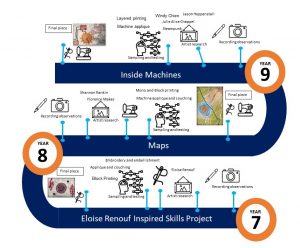 Extra-curricular activities
We aim to supplement our broad curriculum with a range of extra-curricular activities to enrich the pupils' experience and enjoyment of learning. Weekly after-school clubs and lunchtime clubs are available for students to attend. We run international and domestic trips. Previous trips include a day trip to Liverpool in support of a "Beatles/60s" project and an Arts Trip to New York City to visit the various museums and art galleries.