Key Stage 4:  Textiles
Curriculum Intent
The teaching of Textiles at Murray Park aims to enable each student to confidently use hand and machine techniques to competently manipulate materials for a variety of uses throughout their lives. Textiles is taught as an Art discipline, following the AQA Art & Design (Textiles) specification. This allows students to work as 2D artists, 3D artists or follow a fashion pathway through the course. The students will be given the opportunity to experience and work with a wide variety of materials and processes, with more time dedicated to experimenting and developing and finding their own artistic 'voice'. We encourage students to work far more independently and individually at this level, so they can direct their projects to personal, varied, rich and contextual approaches. We are incredibly proud of the wide variety of projects our students have developed in recent years.
As with their Art studies, the students begin projects with observational drawing to study and examine patterns, shapes and textures related to a theme, inspiring their ideas later on. A variety of expressive and formal drawing techniques are utilised in the early stages of Year 10 to underpin technique experimentation. The students learn a wide range of specialist techniques through skills based projects, including material manipulation, construction and printing and dying techniques.
Research into existing artists, designers and crafts people forms part of our homework strategy to aid critical understanding of the work of others. We use local and national artists as inspiration for further development of the students' project work. As well as Textile artists we also research artists who work in other disciples, such as, ceramics and sculpture to generate ideas and inspire their practice.
To further inspire and stretch students, a range of masterclasses form part of the Key Stage 4 extra-curricular provision, featuring skills and techniques not covered in lessons such as patch working, laser cutting, Inktense pastel pencils, wet felting, crochet, knitting, cross stitch/ black work, paper making, quilting, crashing, wax trapping, heat transfer inks and CAD embroidery. These skills are then able to be used in projects in addition to in-class techniques, to individualise projects further.
Reflecting the Murray Park PRIDE values, we want students to grapple and experiment with materials and processes to foster perseverance. We want independent learners who interpret a brief using their own ideas and who follow their 'Dreams' and ideas to produce 'Excellent' outcomes. We introduce students to new art forms, artists and run trips (domestic and international) to broaden their horizons and experiences.
We aim to prepare students for the world of work and Post 16 opportunities by studying professional artists working in a range of sectors of the Arts industry locally, nationally and internationally. We also promote creative Post-16 courses including 'A' Level and Level 3 BTEC and Foundation degrees.
Curriculum overview
At Murray Park we follow the AQA Art & Design (Textiles) syllabus. The Textiles option allows students a breath of opportunity for their personal responses, meaning they can respond using 2D or 3D work, fashion, sculpture, or product design.
Our Year 10 programme consists of three short skills based projects which add new skills to the students' repertoires and allow them to become more proficient at their existing skills. We strive for craftsmanship through practice as well as experimentation. 'Under the microscope' teaches students to follow the GCSE project outline in more detail and begin to understand a sketchbook process. This project results in a 3D small sculptural outcome. Our second project 'Flora and Botany' focusing on printing and fabric dying techniques which results in a 2D visual art work or a small fashion accessory outcome. 'The Built World' Project inspires students to use architecture to explore fabric manipulations and fabric construction techniques.
In the summer term our pupils start their extended individual coursework project using exam board style 'starting points'. These projects run up until Christmas in Year 11. In the Spring Term of Year 11 we focus on Component 2, the Non-Examined Assessment (NEA) exam board set assignment until the end of the course.
https://www.aqa.org.uk/subjects/art-and-design/gcse/art-and-design-8201-8206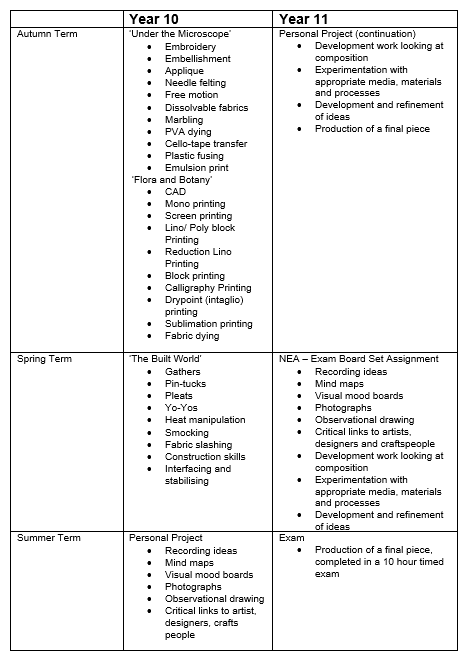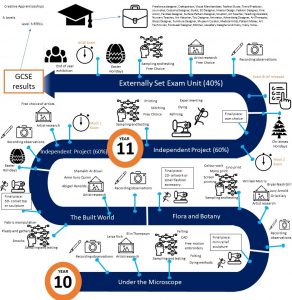 Extra-curricular activities
We aim to supplement our broad curriculum with a range of extra-curricular activities to enrich the pupils' experience and enjoyment of learning. Weekly after-school clubs and lunchtime clubs are available for students to attend, including Commit 2 Six sessions and masterclass activities. We run international and domestic trips. Previous GCSE trips include a trip to New York and a visit to the art galleries in London.